What Does It Mean to Live at Viridium?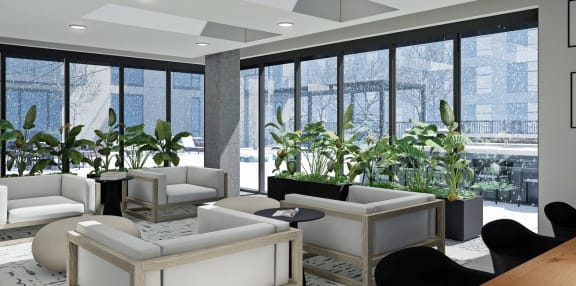 WHAT IS LEED?
Sustainability Is Our Lifestyle
LEED stands for Leadership in Energy and Environmental Design and it is how the U.S. Green Building Council certifies buildings as being energy-efficient and environmentally friendly.
WHAT DOES LEED AT VIRIDIUM MEAN?
Viridium is designed for LEED certification. Beyond just offering incredible apartments, we offer a community committed to providing you environmentally friendly living with a focus on sustainability. Viridium was built better than your typical apartment community. Our building is healthier, more comfortable, and requires less maintenance. And that means you can feel good about living here, in every way.
MATERIALS & RESOURCES
Environmentally Friendly Products and Practices Built this Home.
INDOOR ENVIRONMENTAL QUALITY
Live in Fresh, Continually Cleaned Air.
LOCATION & TRANSPORTATION
Walk, Bike or Ride to Downtown, NE or Uptown. Easily.
WATER EFFICIENCY
Native

and adaptive

plants are built into the landscaping of the property, to reduce excess runoff and limit irrigation needs.

Viridium is designed to minimize water usage.

Low-flow fixtures and fittings, sink aerators,

water-efficient appliances, and more:

all designed to use water where it's needed most. Having low-flow showerheads can reduce water consumption by approximately 150 gallons a month!

LOCATION & TRANSPORTATION
Viridium is within walking

distance of shopping, dining and entertainment, and multiple public transit options. Our community has a walk score of 85, transit score of 82 and bike score of 89. Additionally, we offers bicycle storage, dedicated onsite parking, and car-charging stations for electric vehicles.
SUSTAINABILITY
Previously developed land was reused to build this community. By leaving natural environments undisturbed, Viridium is created with a minimal impact on the environment.

Our community places utmost importance on your indoor/outdoor living experience and a majority of our units feature spacious, private decks. We also have a large amenity deck for residents to use.
One of our favorite community amenities is the Winter Garden, a temperature controlled space overlooking the amenity that is surrounded by windows and is full of living plants.



ENERGY & ATMOSPHERE
Our community is designed to be more energy efficient than other properties that are not LEED-certified.

On average, LEED-certified homes use 20 to 30 percent less energy than a traditional home built to code, with some homes reporting up to 60 percent savings. This means lower monthly utility bills for you!
Our windows are energy-efficient and all of our in-unit and common area appliances are ENERGY STAR-certified.

To help avoid unnecessary heating and cooling costs, every units comes with a smart thermostat that can be controlled by your phone to adjust the temperature when you don't need it. Smart, programmable thermostats will help to dramatically lower energy costs.
MATERIALS & RESOURCES
Construction waste management was a priority for the team while constructing Viridium. Instead of sending all of our trash to landfills, we sent over 75% of the waste to certified recycling facilities.

Special roofing materials are installed on the roof surfaces to reduce heat island effects.

Environmentally friendly products were used to ensure that Viridium was built with locally sourced and environmentally preferable materials for major components of construction. lowering the home's overall carbon footprint and energy usage time and creating a healthier living environment.
INDOOR ENVIRONMENTAL QUALITY
From the beginning of construction, we instituted an indoor air quality management program. This involved the optimization of materials, ducts, and vents to achieve clean, high-quality air.

Reduced drafts, moisture, dust, pollen, and noise will be achieved through the sealing of all the penetrations and openings in Viridium's "envelope" and in heating and cooling duct systems. Your tightly sealed home will lead to improved comfort and indoor air quality while reducing utility bills and maintenance.

Each unit is compartmentalized, meaning that the air that is flowing/exchanged within each of the units is fresh and only remains in the unit or outside, providing continual fresh and clean air to unit occupants. Compartmentalization helps to prevent air, odor, and smoke transfer between units.
Ventilation strategies support proper airflow throughout a home, bringing fresh air in while flushing exhaust and contaminated air out, making the indoor air cleaner and healthier for you.